Bathroom renovations rank among the most popular home improvement projects. This makes sense when taking into account that these spaces are small, yet serve as pristine zones of relaxation and tranquility. Renovating them is no walk in the park, though. There is a wide array of details, options, and decisions you need to take into consideration. You have to find the best way to work with the space you have and make the magic happen.
The planning stage
First and foremost, know that planning well ahead of time is the only way to turn your vision into reality without breaking the bank or wracking your nerves. Thus, put your expectations into perspective and figure out what the renovation will cost you. The major aspects that influence the total cost are the size of the bathroom, choice of materials, and labor. Do you want a spa-like, luxury room or just the basic stuff? In any event, the decision should not blow the budget.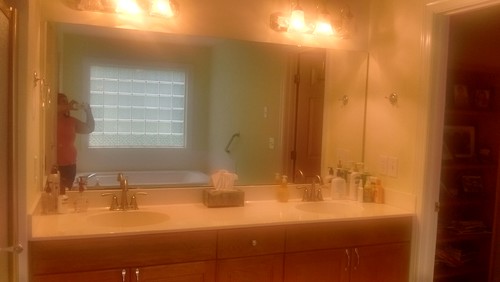 Furthermore, you have to know the bathroom dimensions and measurements. Assess space requirements for a new bathtub, toilet, and fixtures. To plan the right height for the sink, for instance, you must evaluate the countertop dimensions and distance from the floor. Also, it is necessary to always double-check the tile sizes to avoid making a mistake and wasting money. You will need some extra ingenuity if you are working with a tight space and need to steer away from the traffic flow problems.
The devil is in the detail
There are some aspects homeowners tend to lose sight of, such as rerouting the plumbing. Well, make sure not to neglect a single detail. Pick the right vanity for the layout and size of your bathroom. Add some countertop space and storage without cramping the room. Also, try to conquer the corners with custom-built solutions.
After all, the storage space is essential and small elements like hooks make a big difference. Do not worry if this seems like too much to take on yourself – summon professionals from companies like Integriti Bathrooms to your aid. Identify the tasks that you can handle yourself in order to trim the labor costs. Installing a new toilet, for example, is probably something that you can manage on your own in most cases.
Form and function
When selecting materials, you should not focus just on the cost and the looks. It pays off to take into account the maintenance requirements. Quality countertops, as well as floor and wall coverings, create a sense of opulence and style. And to ensure the longevity of your surfaces and materials, consider ways of reducing moisture levels and thus keeping mold and mildew at bay.
Bear in mind that giving your bathroom a new fresh look does not mean you have to change everything. In fact, some features, like brick walls, exposed pipework, and vintage finishes add character and unique aura to your room. Those who are aiming at the old look may opt for built-ins like recess medical cabinets and soap dishes. You can also let the ornate mirror work its visual magic and expand the space.
Finally, get your creative juices flowing when coming up with décor pieces. Introduce things like wall art, a decorative chair, potted plants, and colorful towels and curtains. Do not overlook the lighting scheme as it has a profound impact on the visual appeal and functionality of the space. The ultimate trick is to utilize multiple sources, such as accent, ambient, task, and decorative lighting. Layer them to nurture a striking atmosphere and complement other design elements.
A fresh start
We are not all blessed with large bathrooms, but the art of smart renovation knows no boundaries. First off, evaluate your needs and set the goals. Plan your remodeling efficiently to eliminate headaches and stress from the process. So, cherry-pick the right materials, décor pieces, and design solutions. Assemble the relaxation sanctuary of your dreams and immerse in its stimulating and invigorating environment.
In this article