It's easy to fall in love with the Land Down Under. Its expansive countryside is a colorful patchwork of natural wonders, its urban and suburban environments are the most upbeat yet relaxed cities in the world and the residents that live in them are known as the friendliest people imaginable. It's no wonder then that so many people constantly seek that perfect location to settle and live out their Australian dream. If you count yourself among these wide-eyed individuals, here are the 4 best places to buy property in Australia.
1. Of course – Brisbane
At a glance, Brisbane doesn't seem like the first place you'd move to, but it is actually the ideal and most popular location to buy property. For starters, it is not as saturated with residents as other renowned Australian urban areas. Additionally, as a city, it is extremely well connected and it pretty much has everything one can hope for when it comes to public facilities.
Furthermore, the universities of Brisbane are known as top-notch institutions that offer the best possible educational environment for young adults. They are accredited, well-respected meccas of learning and if you have children, this might be the primary reason to move to this beautiful city.
2. Everything you want is in Sydney
A city that needs no introduction, Sydney is one of the most desirable places to live in the whole world. The city that spreads across the immensely complicated and deep bay which is lined with dazzling buildings and incredible landmarks has sort of become the 21st century New York City – the beacon of promise and the example of the best that Western civilization has to offer.
Considering the sheer quantity of tourists and temporary residents that course through this city like blood, investing in a home within the city limits of Sydney is one of the best choices one can make. In fact, if you play your cards right, you can turn a profit on your investment rather fast, but it can also be a gamble.
Considering the ever-growing web of streets, districts, urban and suburban environments, it would be smart if you contacted a real-estate firm like reliable and respected White Square Properties, that will show both flexibility and commitment once they're hired to find the perfect fit of a home for you.
3. The fabulous Gold Coast
The Gold Coast has the best of both worlds – an amazing coastline playground of high rises, deluxe hotels, amazing aqua parks and dazzling nightclubs, coupled with the lush and beautiful hinterland. Therefore, it is no wonder this wild urban area is looking at a population growth for the books. If you were thinking about purchasing property in this city, there will hardly be a better time than now.
With five-star hotels dotting the beachfront, you can look for the home of your dreams further inland. With so many hotels and other facilities – including a new hospital – emerging, you can expect an influx of quality job offers in the city. However, the prices of real estate will not stay so low with such a growing demand, so act fast!
4. The idle beauty of Cairns
Situated on the north-eastern coast of Queensland, Cairns is listed as a city but it is more like a very convenient town that has everything you might possibly need. With a population that is slowly crawling towards the golden number of 200,000 residents, this can be an amazing home for people who enjoy a slower rhythm of life and idyllic suburban streets.
Nonetheless, the tropical climate and the proximity to the Great Barrier Reef have turned Cairns into a potent and rather popular tourist destination – which appears to be especially enticing for the Chinese market. Investment here shows potential just like in Sydney – even if you have to relocate to another place, you can still keep your apartment or house in Cairns and rent it out.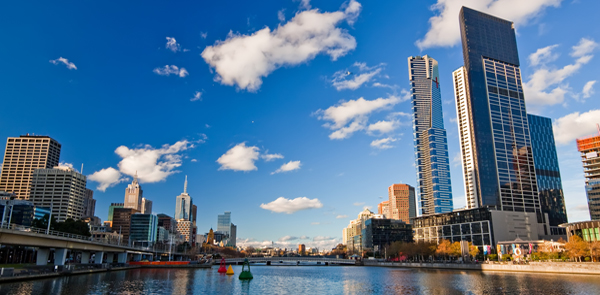 In all honesty, when it comes to the living conditions in the Land Down Under, you'll be spoiled for choice. The vivacious cities and quaint suburbia on the coastline are the primary draw for all newcomers who want to settle – and to be fair, considering this picturesque coastline encircles the entire continent, there is room for everybody. However, the inland area also has its fair share of beautiful urban and suburban environments with a well-developed infrastructure. It is a country of opportunity for those who are pursuing a career and a quaint family life with the best educational institutions in the world for their children.
#RealEstate
In this article