Multi-function printers make perfect Business copiers and are able to take on the duties of a copier, fax, scanner, and printer. A multi-function printer also called an MFP, is often used in businesses that are interested in limiting costs, developing smooth workflows, and consolidating equipment. As your business makes the move to digital files, consider purchasing a printer that is specially made for digitizing documents.

Things to Consider While Evaluating Multi-function Printers As a Business Copier

As you make an educated decision about the Business Copier that's best for you, it's important to ask yourself the right questions. Here are ten things you should know as you consider purchasing a multi-function printer.

Know Your Requirements

What will you need the Business Copier to do for you and for your end users? How do you want to use the machine to help you manage documents, simplify your workflow, reduce paper, scan documents to the cloud, work remotely, and more? How many prints, copy, fax, and scan jobs do you expect that you'll need to run each day? How many users will be using the machine? Do you need it to print in color? Do you need it to be wireless? Does it need to be cloud-connected or mobile? There are numerous factors to take into account.

Know the total cost of ownership (TCO) for the device, and analyze the cost and benefits.

As you evaluate Business Copiers, don't make the mistake of only looking at how much the initial hardware costs. There are various other issues to take into account, such as the price of supplies. After ink costs are taken into account, inkjet multi-function printers, which were once seen as low-cost, often have a fairly high TCO than other, better-functioning laser multi-function printers. TCO will also increase quite a bit for products that are difficult to use and keep up with, are unreliable, or that lack the capability to keep up with your demands while providing you with the results your company needs.

A multi-function printer can be useful as you work to manage your printing costs, and it will also include extra capabilities for your organization if you make a solid choice. Ponder how multi-function printers can help with TCO for both imaging and printing assets, help you better manage your organization's resources, and help you work towards more efficient business processes.

Know What Third Parties Say

Examine the data on the performance of the printer, as well as the management of support issues on the vendor sheets and the data from testing agencies. What do people with experience in the industry have to say about the features and the quality of the item that you're thinking about purchasing?

Know how convenient it is to network

Think about how difficult it will be to add the Business Copier system into your existing network. Will it be easy to get set up? Will it require any training? Does it have software to walk you through the installation process or to troubleshoot any issues you have?

If your group needs to print from multiple devices in multiple locations, all from one printer, then you may need a Business Copier with WiFi. A WiFi multi-function printer will connect to a network and doesn't need to be attached to that network with a cable. This makes mobile printing easy and limits the number of cords available to trip over.

Is it easy to use?

Reduce the possibility of bottlenecks and avoid downtime by choosing a Business Copier that's easy to use. Look for user interfaces that are intuitive, a device that requires little to no training, and a printer that can be set up quickly and easily. If you think you may need support, be sure that the product offers service and support coverage.

Modern Business Copiers have interfaces similar to tablets, making them quite easy to use. You can touch, swipe, and scroll just like you can on a tablet or smartphone. If there are apps built in, you can utilize specific tools and create your own custom-designed workflow.

Multi-function printers that are connected to the cloud or to your mobile make it simple to do your work from anywhere you'd like. This type of MFP lets you use apps to translate, download, scan, print, share, and distribute any type of document you'd like.

Learn about its ability to multitask

You'll need a Business Copier that is really able to perform multiple functions. Are users able to access each function that they need, even if another function is already being used? Some products offer many functions in one machine, but they can't perform these tasks at the same time. If they cannot take care of all of the functions of a multi function printer at the same time, you run the risk of potential downtime and bottlenecks.

Know it's multiple directional capabilities for communications

In order for you and your staff to be able to solve, prevent, and handle problems, you'll need to be able to get everyone on your staff, users, and IT administrators all necessary information about the status of the device, the queue, and any current print jobs. The printer needs to be able to communicate with everyone and communicate well across the network so that everything continues to run smoothly. Try to find print jobs and

Learn about what support, device management, and remote assistance are available.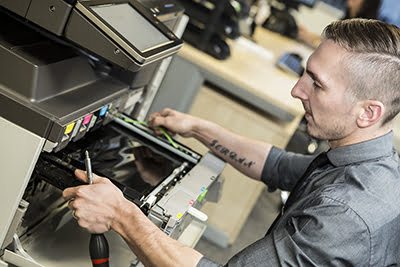 Think about the company's dedication to supplying fleet management tools and high-quality devices. This is a thing you may need to be able to utilize soon. Keep an eye out for device relationship management software that emphasizes the printers up time. Does the vendor respond quickly to issues with high-quality service? You want to be able to trust that your multi-function printer is going to be up and running so that your entire office functions well.

An excellent quality multifunction printer will assist you as you manage a fleet, as well as a wide variety of information. If it has the correct tools on board, like integration with Managed Print Services, the MFP will be the center of the document environment. It will help you  automate your process, optimize your remote device management, and help your help desk with on board tools. Using apps helps open numerous future possibilities for the printer and helps you with effective document management.

Know if it gives you an appropriate level of confidentiality and security.

Does the device have the level of security you'll need for your business? Can you scale it up for more security to match changing needs?

Left alone, Business Copier are vulnerable entry points for malicious attacks or possible data breaches. One way to keep your data as secure as possible is to choose printers that exceed industry standards for data encryption, intrusion prevention, and device detection. Keep an eye out for manufacturers who partner with IT security companies.

Know what solutions and software are available.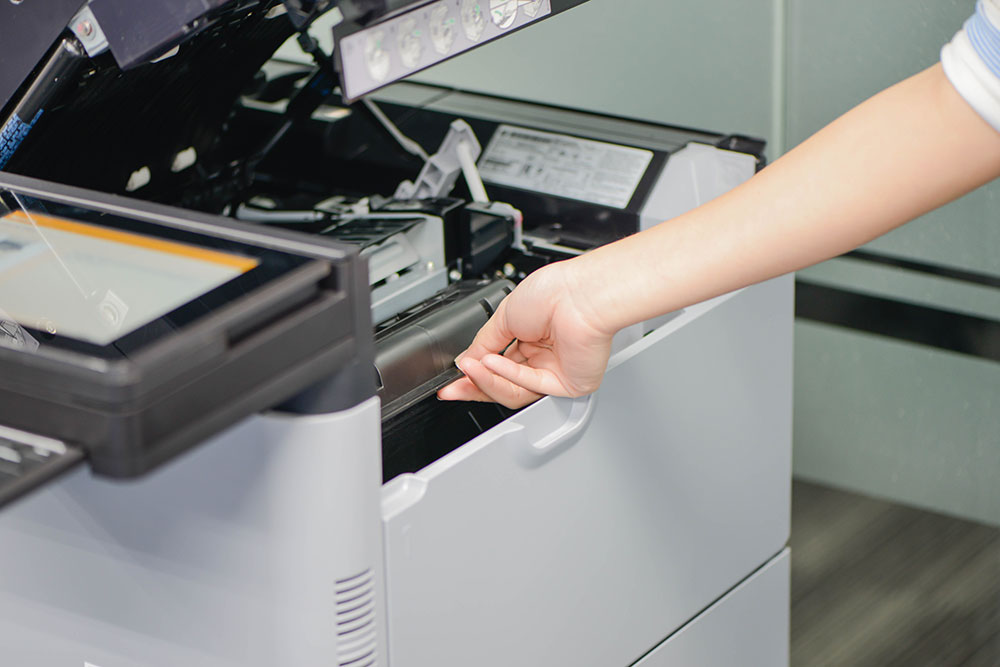 Know what software solutions the vendor offers that are compatible, as well as what solutions other partners offer that may work with your device.

Business Copier may help you streamline the process so that you can electronically archive, organize, and edit your documents. With this type of device, you can turn paper documents into electronic ones and then send them to a variety of destinations with a single scan – cloud-based archives, networks, remote printers, email, and more.

Business Copier that use apps take this even farther. They include workflows and functions into an easy to use the interface like the one you're used to seeing on your tablet or mobile device. They allow you to print from or scan documents up to the cloud and connect smartphones to these devices so that you can work from anywhere you'd like, at any time that's convenient.

After you have the information that you've gained by asking this list of questions, you'll be ready to make an informed decision for your company.
In this article