A grown up girl when takes her life in charge, the very first person she wants to be like is her mother. The role of a mother in grooming her daughter to become a perfect woman cannot be stated in words. Since her childhood, a daughter gets fine values, numerous life-changing skills, teachings of womanhood, and umpteen other valuable lessons. A mother wish that her daughter surpasses her in every aspect and live a happy and successful life.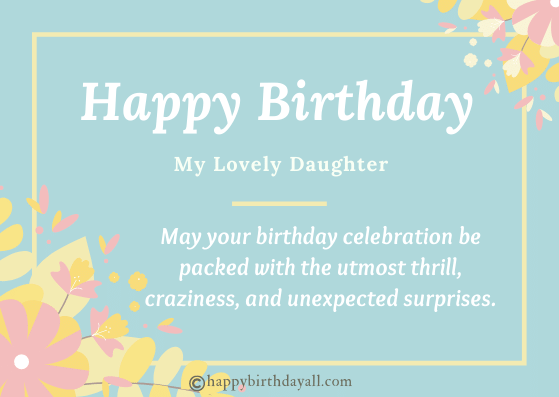 For a mother, the birthday of her daughter is one of the most awaited and quintessential occasions. She cooks all the scrumptious dishes for her daughter, ropes in the finest gifts and surprises for her, and do everything to woo the piece of her heart on her special day. However, there is nothing more special and beautiful for a daughter than the birthday wishes that come straight out of the heart of her mother. To put a smile on the face of your lovely daughter, we have collated a thumping collection of happy birthday messages for daughter that are quite perfect to wish your sweet daughter. 
Very happy birthday to the world's most beautiful daughter from the world's prettiest mother. You have made me proud more than my son, and your zestfulness to live life to the fullest is laudable!
Dear princess, you have happily completed the 21 beautiful seasons of life and this is just the beginning of a truly magnificent and exciting life. May you grab all the success and happiness you deserve in life. Wishing happy birthday to my stunning daughter!
Since the day you have arrived in my life, everything in life is going my way and all I have experienced is the best things so far. My lovely daughter, you are definitely my lucky charm in every sense. Have a bodacious birthday celebration sweetheart. Happy birthday my cute daughter!
Your birthday was an absolute dream came true for me because I always wanted a baby girl as a kid. After your birthday, I never wished for anything from God except for one more chirpy and bubbly baby girl like you. Wishing happy birthday to my lifeline, my lovely daughter!
Unquestionably, I am the most cheerful and the luckiest mom in the world as I have such a caring and successful daughter who doesn't let worries even come near to you. I love you so much my moon pie! Happy birthday, dear daughter!
You are as fresh as the first dewdrop in the morning, as bright as the most intense sunshine, as calm as the ocean water, and as soft as talc. I wish a joyous birthday to my utterly beautiful and sophisticated daughter!
I can very firmly say that God has been outrageously kind to me as he bestowed me such an adorable and barnstorming baby girl. Today is your 18th birthday and the first leap into adulthood. May you have a glittering future, my baby girl. Happy birthday to my ever lovely daughter!
As it is the birthday of the biggest blessing of my life, I would like to impart some priceless wisdom to you. Never let your eyes off the goals and never ever compromise with your self-esteem. Happy birthday my angel-like daughter!
Not only you are an ingenious girl but also you are one of the kindest souls I have ever seen. The compassion you have for everyone is what separates you from the rest. Wishing happy birthday to my pretty splendid daughter!
I feel so excited and delightful whenever I prepare for your birthday celebration. My happiness knows no boundaries when you cut the cake and rub it on my face first. God, what would my life be without you? Happy birthday my cute daughter!
Hey lovely daughter, do you know why I manage to sleep and wake up with happiness at night and in the morning? Because I see your innocent and cute face before I go to sleep. Happy birthday my stunning daughter!
Every year, when your birthday approaches near, my excitement amps up manifold times and I do whatever I can to make your happy birthday celebration one heck of a scintillating and perfect affair. My life is empty with you. Wishing happy birthday to my dearest daughter!
Also see – Belated Birthday Messages
In this article