Diamonds are forever. This is very true when it comes to sparkling jewellery and the ethereal beauty diamond brings with itself. Diamonds have always been a popular choice when it comes jewellery as they add elegance and beauty to a necklace or an earring. It has a certain glow and exclusiveness about it that nothing else can beat.
Many jewellery showrooms have come up with new and innovative designs to fashion with the help of diamonds and gold. They're known for their beautiful and exquisite designs and they never fail to surprise their customers—month after month.
Here are some of their best designs to give you an overview:
These elegant masterpieces are set with classic marquise diamonds and are delicately designed with pear-cut diamonds of above 3.00 carats each in 18k white gold. To add to the charm, it is surrounded by round brilliant cut diamonds.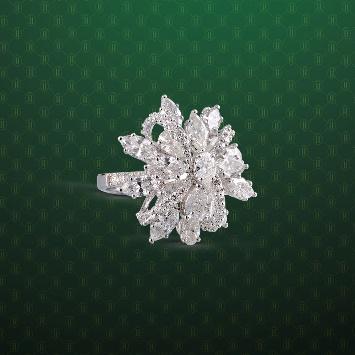 When it comes to diamond, one cannot possibly forget the famous diamond ring in the shape of a rock. In this particular diamond ring, a variety of diamond cuts are combined and designed in a floral orientation. A unique melange of pear, marquise and oval-shaped diamonds, intertwined with smaller cut diamonds in a pave setting is what sets this piece apart from the other diamond rings.
When it comes to diamond jhumka designs, this one is unique, yet traditional in its own way. With an exquisite 37-carat cabochon emerald surrounded with white diamonds and fancy yellow diamonds, this pair of jhumkas also come with a centre motif.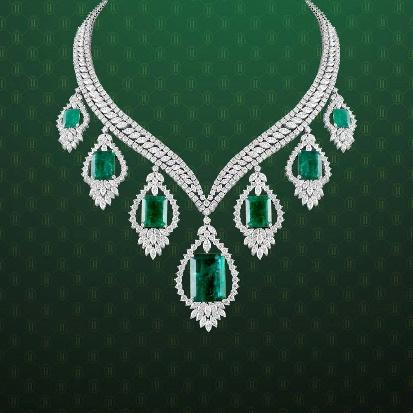 When it comes to feeling like royalty, this is the necklace to go after. Beautifully designed and perfect to adorn the contours of your delicate neck, this necklace is a sight to behold. Studded with fancy marquise, round, brilliant-cut diamonds, it has an exquisite design. Decorated with Zambian emeralds from approximately 3.00 carats, it is as precious as it is regal.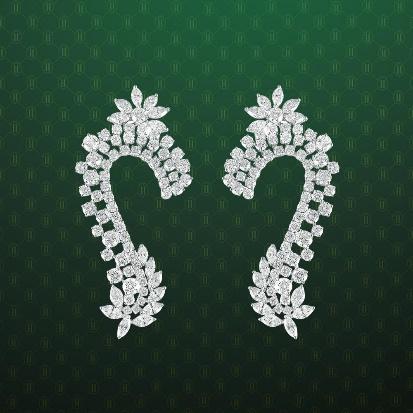 When it comes to elegance and modernity, this pair is perfect for the statement you want to make. Chic and graceful, this combination of white and yellow diamonds set in 18K white and yellow gold is magnificent in a soft and subtle way. No way can you go overboard with these little beauties, and they ensure that you make a sweeping statement in the event you wear them to.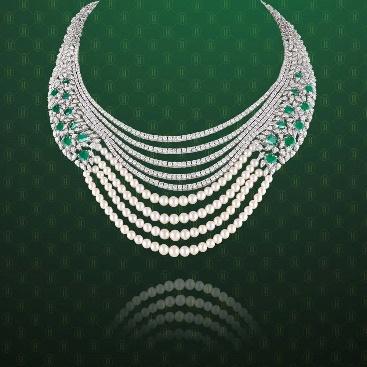 For those who are in love with layered jewellery, this will be a delight to behold. The cascading strings of round and brilliant cut diamonds which are marquise-shaped, also have emeralds and pearls assembled aesthetically in 18K white gold.
Hence, there are a lot of ways in which diamonds can adorn you—whether it is in the form of a necklace, or a pair of earrings, or a simple yet grand ring. They are subtle and magnificent at the same time, without being tacky and old-fashioned. And times may change, but diamonds will never lose their charm. After all, diamonds are forever.
In this article