Installing through-the-wall air conditioners demand a lot of work including opening a hole in an exterior part of your home's wall. However, with window air conditioner units, all this is not needed. Though should you decide to call a HVAC contractor in Houston, A/C Man has your back and will make the process as easy as possible for you.
Research has shown that about ¼ of American homes have a room AC or window air conditioner, and this number is increasing rapidly every year. The million-dollar question is why? Well, the simplest answer is that these Window ACs are the best solution for the summer humidity and heat.
As such, this unbiased buying guide will help you not only to budget for an AC but get the best on the market. We have included features, types, and size. When it comes to Room AC or window air conditioners; they are:
Affordable.
The good news is that smaller models go for $100, which is very affordable. Larger models will cost you about $700 but offer great cooling capacity. The fact is that window or room AC is the best option, especially if you do not own the property. They are also a great option if you do not want to spend a lot of money installing a whole-house system.
Generally, they offer the following features:
A majority of these units come with a variable control system. What does this mean? Well, it simply means that they do not have the simple LOW and High settings like earlier versions; therefore, giving you much control over your preferred setting. Furthermore, a majority of them come with an energy-saver switch, which helps cut down the cost of your electric bill. However, window air conditioners or room AC can only cool a maximum of two rooms.
It is very easy to purchase a room or window Ac because they are readily available in many home improvement stores. They can also be found in department stores, large supermarket chain stores, and even pharmacies. Some of the top brands include LG, Kenmore, GE, and Frigidaire.
The best thing is that these types of ACs come with an easy to install kit and a 'how to use' manual. Free-standing portable ACs only need minimum setup. They are portable, meaning you can roll them from room to room. Smaller room air conditioners like those that use less than 7.5 amps of electricity are much simpler to install. All you have to do is plug them into a standard 120-volt socket outlet. However, you are advised not to share the power from the same socket with other major appliances. Larger AC units need dedicated 120 volts. This simply means doing a bit of wiring. Other models need 230 volts of dedicated circuits. Before you buy one, it is wise to take electrical needs into consideration. These options also tend to increase your power bill by quite a bit, running multiple in a single house would soon have you paying more than it would cost to call a dedicated Houston HVAC contractor and get a whole system set up that would last for years into the future. Remember to fully consider each option before making a final decision.
Types Of Room Air Conditioners
A good room or window air conditioner should be efficient and run quietly. The best way to buy a room AC is going for a model that suits your room better and can handle cooling the room efficiently. Do not forget about reliability and affordability.
It is important to note that room ACs fall under 3 categories:
Wall-mounted Units

Window Units

Portable Units
Therefore, selecting the best generally depends on where it will be used. For example, if you have a window that cannot fit the unit, then a window AC will not be the best choice for you. This does also apply to the rest. If you are limited in window and wall size, then you are better off with a portable unit.
Window Air Conditioner
Well, this type of window air conditioner is by far the most popular. A majority of the models fit a single and double window, and they generally come with accordion panels, which are used to secure the unit. Other AC units will fit in a sliding window. Many will agree that installing a window Ac is relatively easy, as fully discussed in the article How to Install a Window Air Conditioner. All you have to remember is that taking window measurements before shopping is important.
Wall Air Conditioner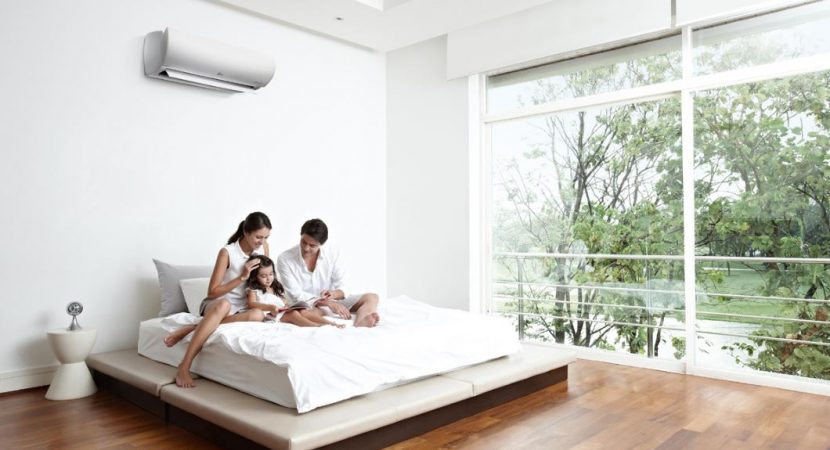 One advantage is that a wall AC does not take up window space, and offers a more secure fit. With wall air conditioners, you will need a frame that will support it. With large Ac units, you will need the services of a professional.
Portable Room Air Conditioner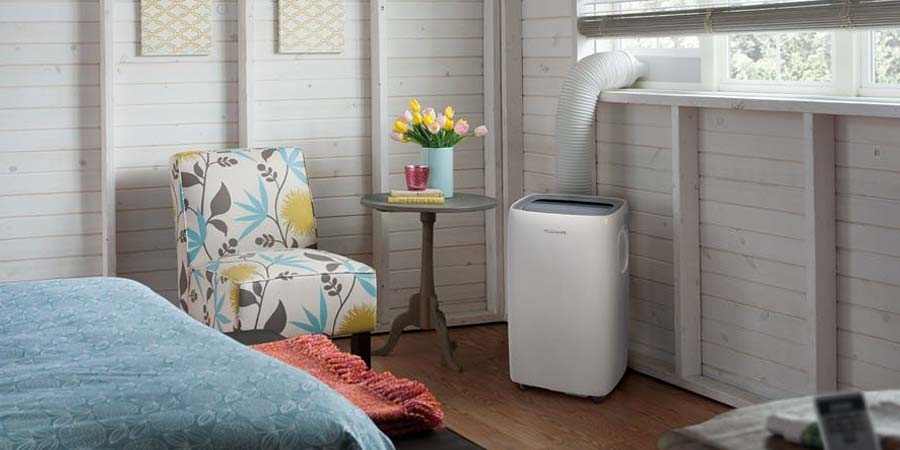 These are freestanding, self-contained AC units. Many of them have wheels installed, which will make it easy for you to roll them from room to room. They come with a long flexible hose that is used to exhaust hot air. It works like a cloth dryer vent. Portable units are a bit expensive compared to the other two. There are many choices to consider, but be sure that should you decide to call A/C Man and get a Houston HVAC contractor out to you, we will treat you right, and install a quality HVAC system that will last a lifetime!
In this article