7 Small Bedroom Ideas – to Create a Space that is Big on Style
Don't let the stress of a small bedroom make you lose any sleep. There are plenty of decorating ideas that'll make your sleeping quarters feel less like a shoe-box with a bed and more like a spacious luxurious hotel suite! Having a small bedroom is more common than you think. In fact, if you live in the city your definition of a 'big bedroom' probably differs from those folks that live rurally.
But not to worry, with a couple pointers from this article and a magical touch you too can have a vast bedroom oasis simply by clever design!
Your Style Guide for a Bigger Bedroom!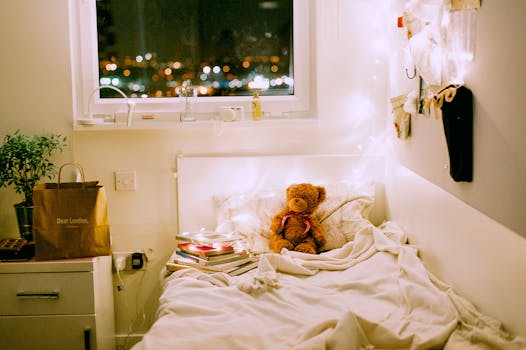 Hide-away Beds:

If your bedroom is on the teensy side, ditch the traditional bed and frame as it'll eat up most if not all, of your available floor space. Instead purchase either a Murphy Bed that can fold up against the wall or a sofa bed that can shrink in size when it's not in use. That means any additional furnishings surrounding your hide-away bed need to be easy to move as you'll be doing this regularly!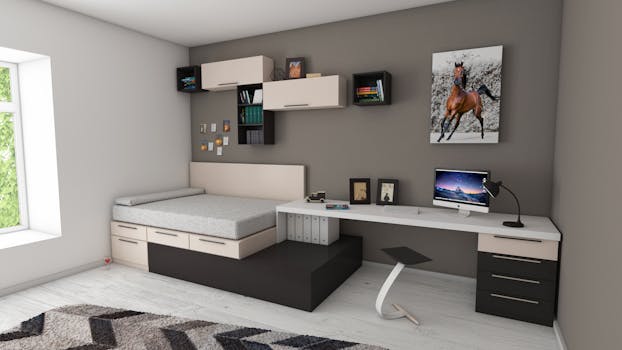 Towering Storage:

Give your bedroom height so it appears larger by adding floating shelves at the ceiling. Or why not install floor to ceiling shelving units? This will also give you much needed storage space and visual interest.
Mirror, Mirror on the Wall:

Mirrors are a great illusionist, tricking the eye into believing the room is bigger than it is. Use 2-3 mirrors in your bedroom. Some reflective choices: closet door mirror, above the bed or dresser, small clusters of framed mirrors or chrome finished decor.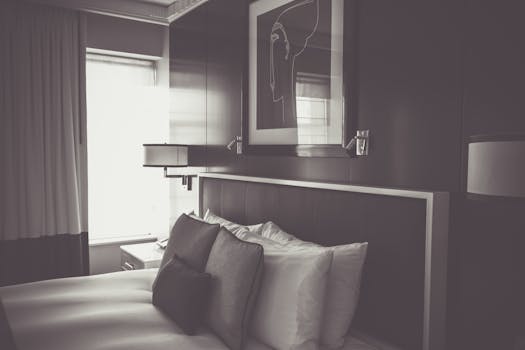 Wall Sconces:

Forget the table lamps, they eat up valuable space. Use wall sconces on either side of your bed instead! This will declutter your night table, give you adjustable lighting for nighttime reading and make the room appear taller.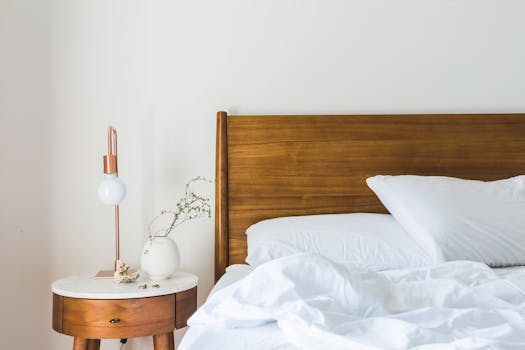 Practice Minimalism:

Keep your

sleeping space simple

, clean and free of unnecessary clutter. Maximize any available storage and remove anything that isn't essential. This should leave you with the bear minimum – a couple decorative pieces like artwork, photos or visual displays.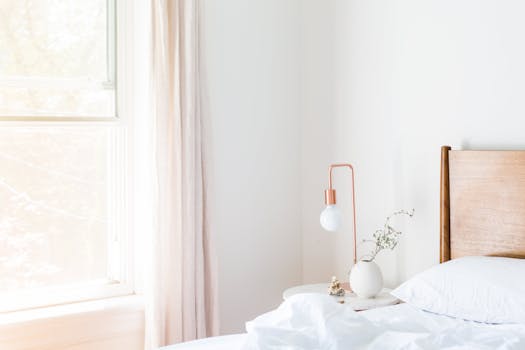 Light to White Colour Palette:

Big and bold colours beware, they'll only make your room feel smaller, so stick with whites or even pastels. White is best.

White gives it that vintage look.

To add character use cool coloured accents. Think pillows or little finishing touches. While your

bedding for couples

or single sleepers should remain a neutral light.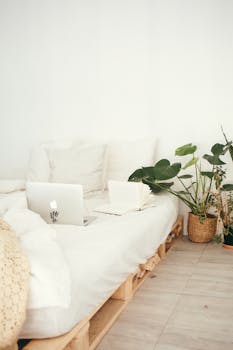 Multi-functional Furniture:

Don't fill your small space with small furniture to make it optically larger, rather, hit the stores in search of multipurpose pieces. When space is at a premium, every inch counts so buy a Murphy Bed or a small bed frame that has built-in cabbies for the headboard and under the bed for extra storage. Floor-to-ceiling shelves work too. On the flipside, if you can't shove in a freestanding night table, install a floating shelf in its place!
Give the Illusion of a Bigger Bedroom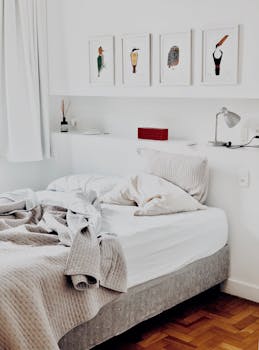 You probably can't physically increase the square footage of your bedroom but you can be an illusionist and magically make it seem larger with these 7 design ideas!   
In this article